Back To The Top Of The World!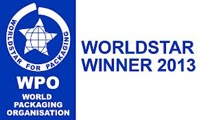 We are thrilled to learn that Planet Canit has won our 2nd Worldstar award.  This was quite an accomplishment for our team—and a "once in a lifetime" honor that we've been fortunate to win twice within the last five years.  Congratulations everyone!
In collaboration with Aquiesse Candle Co. our team designed a truly unique tin that not only moved sales, but also won accolades from the esteemed judges from the World Packaging Organisation.  The end result being that our Aquiesse tin was one of only five winners from North America—-distinguished from a esteemed pack of 249 package designs submitted from over 33 different countries (all of whom had won national awards in their respective countries).
It all gives us a humbling sense of great gratitude.  Thank you.
To read more about this accomplishment, download our new press release (below).
Planet Canit WorldStar Award Press release
This entry was posted on Tuesday, January 28th, 2014 at 7:20 pm and is filed under Awards. You can follow any responses to this entry through the RSS 2.0 feed. You can leave a response, or trackback from your own site.
Leave a Reply
TIN-SPIRATIONS

REACH OUT

Let us know if you would like us to reach out to you

FOLLOW

Categories

Archives